Welcome to BerryLand Pumpkins!! Where everyone has a great time, memories are made and where family traditions are started!
Open 9 to 5:30 daily- conditions permitting for pumpkins and yard activities. (Child friendly Haunted Hayrides are Saturdays and Sundays 9 to 5:30). For comfort and safety of all please leave your pet at home. Service animals welcome. We are smoke free including vapor or E cigarettes. Located just off Hwy. 41/141, Abrams Exit 185. EAST Frontage Rd. just north of McDonalds at the old Farmhouse Ice Cream Parlor at 5687 Steinkraus Ln. Any questions call Suzanne: 920-621-1148.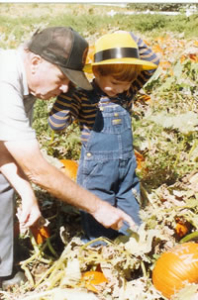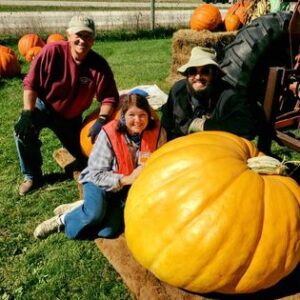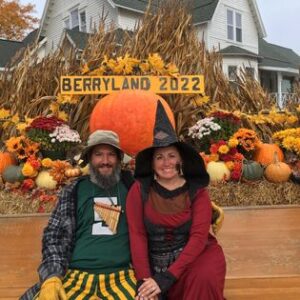 Meet Farmer Andy and Farmer Suzzy! Third generation farmers. Andy's grandparents, Doc and Elda Doudna started growing pumpkins back in the 1970's along with other crops. Their daughter Kris and son in-law Tony LeFebre founded BerryLand in 1980 and grew BerryLand into what you see today!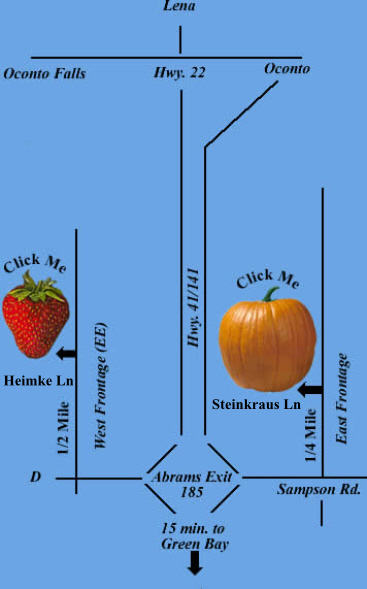 ---
What is there to do at BerryLand Pumpkins you ask?!
Dazzle your yard with our gorgeous hardy Mum selections

Pump water and cheer on your favorite duck in the Duck Races!

Adventure out on the tractor pulled Haunted Hayride geared for young families and kids of all ages.

Pick your own perfect pumpkin right out of the field during your Child Friendly Haunted Hayride (hayride ticket price includes a pumpkin you pick in the field and all the activities)

Experience the bright bold colors, textures of pumpkins, gourds, squash and fall decorations.

Climb on and through the giant bale fort

Weave your way through the Munchkin Maze
Have fun in the Pumpkin Game Tent (New games added)

Dance to the Monster Mash & more.

Make a fun craft and take it home.




Get your face painted ($) 10-4 Sat./Sun

Smile at the cute painted pumpkins

Take pictures in front of beautiful and fun Fall

displays!

Spice up dinner with our pumpkin & squash recipes.

Dry spectacular gourds with our instructions

Test your skill on the kid friendly climbing wall!
Time yourself in the Fall Fun Obstacle Course
Have Piles of Fun in the Corn Box

Look to see if the scarecrows are real!

Test your skull tossing skills.
Race in our New Human Hamster Wheel!
Tons of fun photo ops.
Worm your way through Grubby Worm Obstacle.
Make some music at the BerryLand Jamboree wall.

Make and embrace cherished family

memories and traditions!
And more!!!!
Adult supervision required at all times. Play safely. We are not responsible for any injuries under Wisconsin Act 269.
---
Child Friendly BerryLand Haunted Hayrides
Our Hayride Wagon is Handicap accessible. Please leave pets at home. Service animals welcome. Our farm is smoke free (including no vapor or E cigarettes)
Hayrides-Saturdays and Sundays (conditions permitting) 9 a.m. to 5:30 p.m. Starting Saturday, September 23rd, 2023, or call Suzanne 920-621-1148.
Further changes touched on deeper issues: realizing that nothing in the world is permanent, including any given "me," I got rid of major self-esteem problems and gained the ability to learn quickly and work productively, as my mind became free of unnecessary worries and could focus only on the tasks at hand. As my emotions became quieter getting ahead, I began to understand and read other people better, which proved to be very helpful in life and work. I became less emotionally obtuse, less irritable and angry, I seem to have learned not to clash with the most difficult relatives and with the most nasty interlocutors. Of course, I cannot be called a harmless person with an easy character – so far, excessive softness seems unlivable to me. Although we'll see how I sing in another ten years.
Hayride ticket purchase includes a family friendly ride through the decorated Haunted Trail and a Pick Your Own Pumpkin in the field. Also, enjoy our Munchkin Maze, Game Tent, Bale Fort, Ducky Derby, Witch Pitch, Corn Box, Craft Corner, Obstacle Course, and Climbing Wall for Kids, Grubby Inflatable Obstacle, Skull Toss, BerryLand Jamboree and more.
Our Haunted Hayride is geared for young families and kids of all ages.
*We accept CASH or CHECK made to: BerryLand LLC, Credit Cards are 3% extra.
---
We do Field Trips!!!! Public, private, home and special need schools!
School Groups: By appointment weekdays only. Call Suzanne: 920-621-1148
Haunted Hayride geared for young children. Children can pick their own pumpkin in Bessie the Cow's decorated Pumpkin Pasture, Munchkin Maze, Witch Pitch, Game Tent, Bale Fort, Ducky Derby, Corn Box and Craft Corner, Climbing Wall and Obstacle Course, Grubby Inflatable Obstacle, Skull Toss, BerryLand Jamboree, Giant Bale Fort and more. Siblings riding must also pay for the fieldtrip.
Call early (starting in August) to get your preferred time. Suzanne (920) 621-1148. We accept CASH or CHECK made out to: BerryLand LLC, Credit Cards are 3% extra.
Call BerryLand: (920) 826-7297) or Andy (920-621-6971) or Suzanne (920-621-1148) for up-to-the-minute information on picking times, what is in season, to order pre-picked or to arrange a Haunted Hayride for your school group or club.