Asparagus, Rhubarb and Strawberries. Abrams Exit 185, West Frontage Rd. just north of Chrysler World at 5810 Heimke Ln., Abrams, Wisconsin  54101
Pick Your Own Asparagus through June. Call ahead to order pre-picked rhubarb while it is still in season. Farm: 920-826-7297 or Suzanne: 920-621-1148.
Bring along a plastic handled grocery bag for picking your own asparagus.
You will be assigned a row. Stay in your row. Pick only and all stalks that are 5 inches tall or taller. Leave the shorter stalks to grow. Hold onto the stalk just slightly higher than ground level and give a quick snap. It will snap right where it is tender. No knives allowed or needed. You end up with fresh asparagus that is a great value to you. No wasted hard ends!
Call BerryLand: (920) 826-7297 for up-to-the-minute information on picking times, what is in season, to order pre-picked or to arrange a Haunted Hayride for your school group or club.
Check out this recipe click this: Living with Amy & The Better Half – Almond Asparagus Casserole
Asparagus Recipes:
Quick Asparagus Supper
Fry one pound bulk Italian sausage and add one pound BerryLand asparagus cut into 1/2 inch pieces. Stir and cook until asparagus if fork tender. You can add sliced mushrooms and red pepper if you like. Makes a quick and tasty meal! (I keep frozen Italian sausage on hand so I am ready to go)
Asparagus Guacamole
1 lb. BerryLand Asparagus cooked tender
1/3 cup chopped onion
1 garlic clove
1/3 cup chopped tomato
2 tblsp. mayonnaise
1 tblsp. lemon juice
1/2 tsp. salt
3/4 tsp. minced fresh cilantro or parsley
1/4 tsp. chili powder
6 drops hot pepper sauce
Process asparagus, onion and garlic in blender or food processor until smooth. In bowl, combine remaining ingredients. Stir in the asparagus mixture until blended. Serve with assorted raw vegetables or baked tortilla chips. Refrigerate leftovers. Makes 2 cups.
Almond Asparagus
1 lb. BerryLand Asparagus (cut into 1 inch pieces)
2 C. Crushed seasoned croutons
8 oz. Cheddar cheese-shredded
1 can cream of chicken soup
1/2 cups chopped almonds
1 Tbsp. Melted butter
Cook asparagus in 1 cup water until tender-crisp. Combine crumbs and cheese and set aside. Combine soup, asparagus and asparagus liquid. In a casserole dish layer half of crumb/cheese mixture then top with half of asparagus/soup mixture. Repeat crumbs and asparagus layers. Top with almonds and melted butter. Bake at 350° for 30-35 minutes. Double recipe for larger casserole. YUM!!!
For more great recipes, visit BerryLand today. Asparagus season usually starts the first or second week of May and then extends through much of June.
Asparagus Leek Soup
3 large leeks sliced into 1/2 inch pieces      
1 large onion chopped     
3 Tbsp. butter
4 medium potatoes-peeled & diced              
3 medium carrots sliced           
1 tsp. salt                      
49 1/2 oz. can chicken broth                          
1/2 cup uncooked long grain rice
1 lb. fresh BerryLand asparagus cut into 1 inch pieces        
1/2 lb. fresh spinach- chopped into 1/2 inch pieces             
1/4 tsp. pepper    
1 cup heavy cream
Sautee leeks & onions in butter till tender. Add potatoes, carrots, salt, broth & rice. Cover & bring to boil; reduce heat & simmer 30 minutes. Stir in asparagus & simmer 10 minutes or until vegetables are tender.  Add spinach, pepper & cream then heat through. A soup to remember!!
Check out this recipe click this: Living with Amy & The Better Half – Asparagus Leek Soup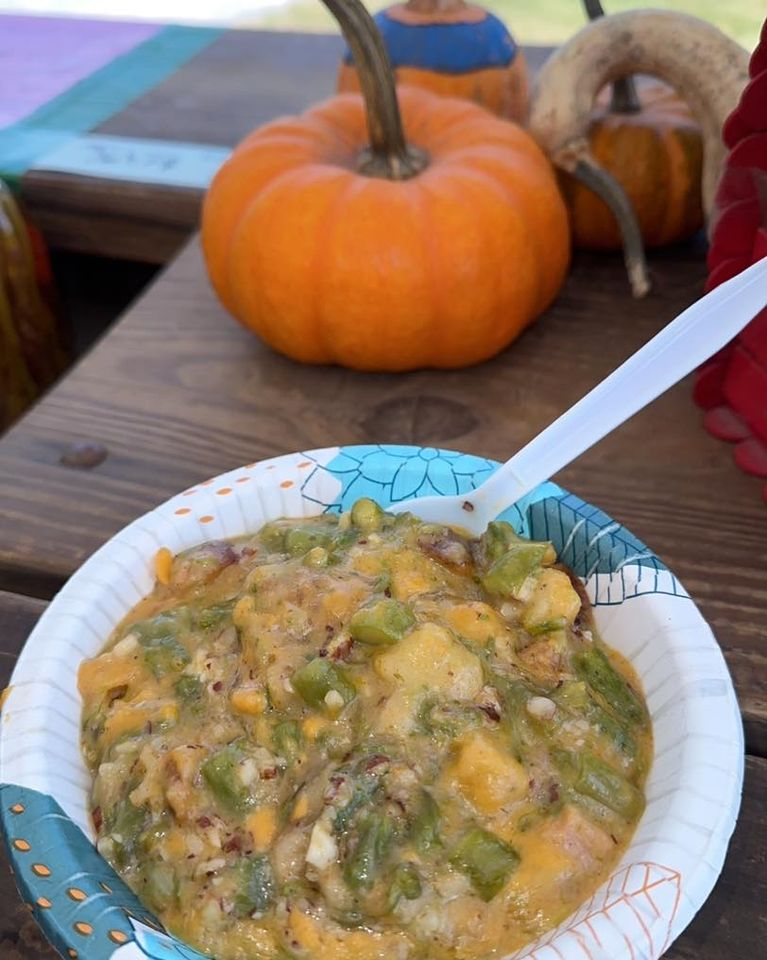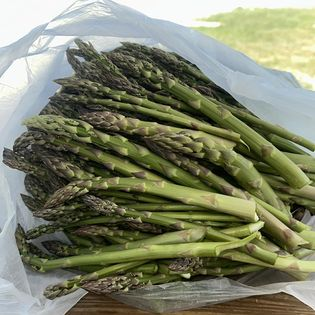 Yoga at the farm during asparagus season! So relaxing!