Strawberries are done for this season, however, we are already getting ready for lots of fall fun!! Hope to see you in the fall for Pumpkins, Child Friendly Haunted Hayrides and much more on the East Frontage Rd. just north of McDonalds at the Farmhouse Ice Cream Parlor. Check out our Pumpkin page!

We accept cash or check made to Tony or Kris LeFebre.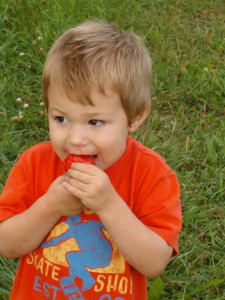 BerryLand is located on both sides of Hwy. 41/141 at Abrams, Wisconsin. We have grown and sold our own fresh farm produce since 1980.
BerryLand Seasons:
Asparagus: May/June- WEST FRONTAGE
Rhubarb: May/June-WEST FRONTAGE
Strawberries: June/July-WEST FRONTAGE
Pumpkins: Late September thru October-EAST FRONTAGE
(mini to giant pumpkins, squash, gourds, stalks, bales, fall decorations and scarecrows)
Child Friendly Haunted Hayrides: October
Deer Feed: Late September to early November

Days / Hours of Operation
Call ahead for picking times & conditions for different crops.
Please Call ahead (920) 826-7297
During Strawberry Season: (click for more details)
 Open  7 a.m. to 7 p.m.  when conditions permit   
& if ripe fruit is available.  WEST FRONTAGE RD.: 5810 Heimke Ln. Please call ahead- hours and days open can vary.
During Pumpkin Season: (click for more details)
9 a.m. to 5:30 p.m. everyday. EAST FRONTAGE RD.: 5687 Steinkraus Ln. (Just north of McDonalds at the Farmhouse Ice Cream Parlor)
Child Friendly Haunted Hayrides: EAST FRONTAGE RD. 5687 Steinkraus Ln. ( Just North of McDonalds at the Farmhouse Ice Cream Parlor)
10 a.m. to 4:p.m. every Saturday and Sunday
Starting the last weekend in September through October – Conditions permitting
School groups and club fieldtrips weekdays are by appointment. Call 920-826-7297