Pumpkins, Child Friendly Haunted Hayrides, Face Painting and Lots of Fall Fun Saturdays and Sundays 10 a.m. to 4 p.m. just off Hwy. 41/141, take Abrams Exit 185, go north of McDonalds on the East Frontage Rd. only 1/4 mile, then left to 5687 Steinkraus Ln. at the Farmhouse Ice Cream Parlor. Check out our pumpkin page! (open 9 a.m. to 5:30 p.m. daily)

We accept cash or check made to Tony or Kris LeFebre.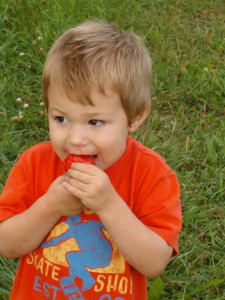 BerryLand is located on both sides of Hwy. 41/141 at Abrams, Wisconsin. We have grown and sold our own fresh farm produce since 1980.
BerryLand Seasons:
Asparagus: May/June- WEST FRONTAGE
Rhubarb: May/June-WEST FRONTAGE
Strawberries: June/July-WEST FRONTAGE
Pumpkins: Late September thru October-EAST FRONTAGE
(mini to giant pumpkins, squash, gourds, stalks, bales, fall decorations and scarecrows)
Child Friendly Haunted Hayrides: October
Deer Feed: Late September to early November

Days / Hours of Operation
Call ahead for picking times & conditions for different crops.
Please Call ahead (920) 826-7297
During Strawberry Season: (click for more details)
 Open  7 a.m. to 7 p.m.  when conditions permit   
& if ripe fruit is available.  WEST FRONTAGE RD.: 5810 Heimke Ln. Please call ahead- hours and days open can vary.
During Pumpkin Season: (click for more details)
9 a.m. to 5:30 p.m. everyday. EAST FRONTAGE RD.: 5687 Steinkraus Ln. (Just north of McDonalds at the Farmhouse Ice Cream Parlor)
Child Friendly Haunted Hayrides: EAST FRONTAGE RD. 5687 Steinkraus Ln. ( Just North of McDonalds at the Farmhouse Ice Cream Parlor)
10 a.m. to 4:p.m. every Saturday and Sunday
Starting the last weekend in September through October – Conditions permitting
School groups and club fieldtrips weekdays are by appointment. Call 920-826-7297